Hiking Adventure with My Dog to Nozdra and Golija in Central Montenegro 
One feels so beautiful by being accepted and creating connections with complete strangers around the world. Montenegro has a big soul, ready to heartwarmingly welcome you at any moment! Let's check the story from our coliving guest Lisa, who was that kind to write the story for our website and share it with all of you! 💚

FitCamp Montenegro Hosts
Going hiking to the remains of the old Ottoman Fortress and back to FitCamp – that was the plan. 
In the morning, I packed my small backpack with some food and water for me and our dog Bailey and we took off. The first bit of the hike I knew already from the previous walks. I was super excited to go again, and this time even further to explore the fortress.
The weather was absolutely amazing – summer feeling in the air. For Bailey it was a bit too warm, so we were faster in the beginning to reach the higher peaks of the mountains as I already knew there was a little pond, and I planned to take a break, mainly so that Bailey could cool herself down by swimming.
And so we did. After the break, we made our way through the stunning landscapes with a bit of wind. While the first part was more rocky, we soon passed to a beautiful valley, with grass and trees all around. We passed a few old farmhouses (katun), some presumably still in use during summer. Once in a while, there were small ponds with water for the cattle, which Bailey also happily used.
After approximately 2,5 hours of walking, we could have seen the ruins of the fortress high up in the mountain above the valley. If we wanted to make the way up to reach the ruins, we needed to leave the hiking road and do a short walk up the mountain. I decided not to walk there as I already had a wild idea in my head. I wanted Bailey and me to save our energy for the adventure ahead. 
Enjoying the beautiful weather and curious as I am, I called my partner. I quickly introduced her to my idea and was super happy to hear that she agreed to help out. Instead of turning to the fortress, I decided to go on, curious to see more of this beautiful mountain area. I wanted to dive deeper and enjoy this energy, nature and remoteness. Of course, previously, I checked the map that said it was possible to continue on the same hiking road for about 13 km to reach the main road again. From that point to FitCamp, there was about 21 km and I knew we couldn't walk that distance on the same day, so that is where I needed my partner's assistance. We were planning to meet on the main road that evening and the pick-up was with our camper van. After planning it all, Bailey and I took a break, ate some snacks and enjoyed the sun.
Heading on, the landscape was changing again and again, from rocky, to small forests and then a beautiful, wide and open valley. I could see that Bailey loved this just as much as I did, as she was bouncing and running a bit in front and around me. I could not believe that there was no one around, just us.
Walking on, we reached another valley with a huge flock of sheep. So, we were not alone in the end…
Slowly making our way towards the flock, I was looking for the shepherd. Also, I could not see any dogs, even if I was sure that there must be some. The sheep were all over the place.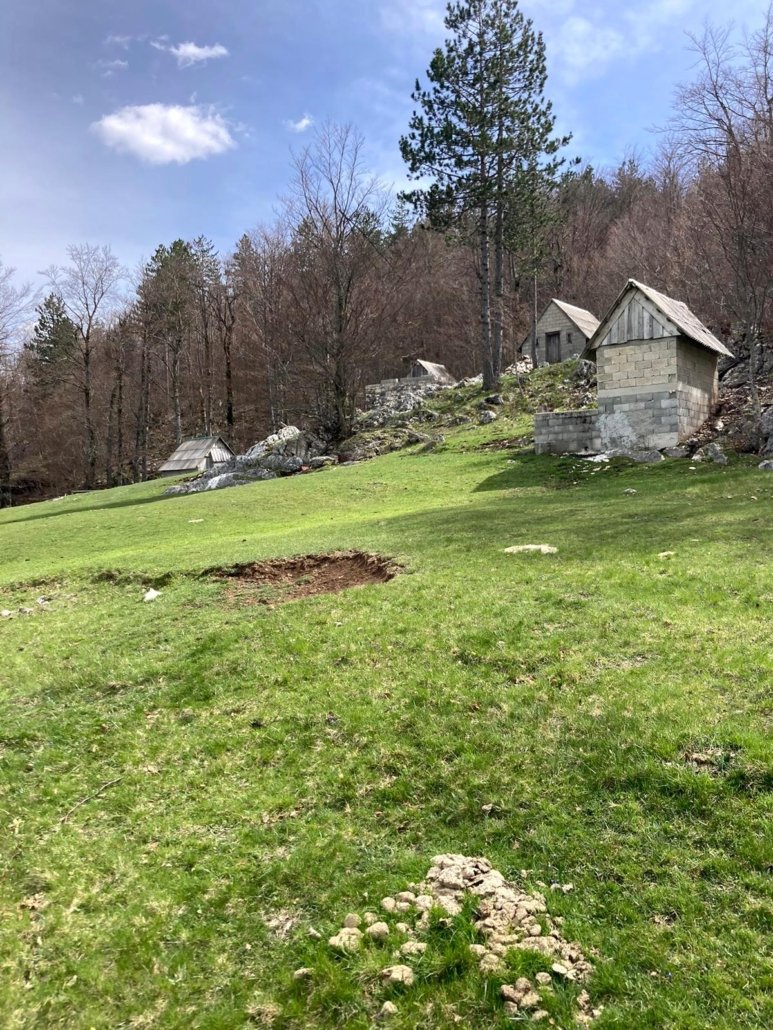 There weren't any other options to pass further, but going directly into the flock. So, I took Bailey to my side and went slowly straight on. One moment, as we came closer, all sheep looked at us, forming a half circle. This was impressive. Even more impressive, when Bailey and I continued and I realised that the sheep were closing the circle behind us. I felt Bailey's tension and was so grateful that she is such a calm dog, in most situations. On the other hand, I was not used to sheep and having them walking behind and around us, so I just wanted to get through the flock and out.
Holding Bailey and walking, I talked aloud to calm down both of us. We speeded up a bit and finally made it out and turned away from the flock.
I was super happy we made it and then I heard dogs and saw a shepherd approaching us. I waved and greeted him in my few, newly learned Montenegrins words, saying "Dobar dan". 
He waved and greeted me with a big smile, obviously surprised to see us. He went on talking, gesturing – I tried and wished I would have learned more Montenegrin. Anyway, I just smiled and followed him as he was inviting me towards the house nearby. Meanwhile, Bailey and his dogs had also greeted each other.
Bailey stayed outside while I went inside, following the shepherd. There was one room. Simple but cosy, with a bed, couch, basic stove and cooking area. We sat down, continuously trying to talk to each other. He even tried to call a few of his friends to help out translating. Unsuccessfully, but it was nice of him to try his best. He offered me what I thought was water and Fanta. I decided to go for the water but a few seconds later I realised when he was serving it in small glasses, that this was no water. This was rakija. Later, at FitCamp, I learnt that this is a typical alcoholic drink from Montenegro, usually made of grapes (but it can be made of other fruits) and intensively strong.
I remembered I had a muesli bar and offered him half. Then I slowly packed my bag and signalled to him that Bailey and I need to go on. He wasn't happy as I believe he thought we planned to hike to Bosnia with just a small backpack. That was my guess, at least. Trying to communicate that everything was just fine – I thanked him. As a memory of this adventurous moment and this hospitable and welcoming shepherd, he left me to take a picture – both of us smiling and then waving goodbye.
I checked on the map and saw that we had about 1 hour of walking left. We took a small break, enjoying the beautiful views. After a while, I could already see the spot where the hiking road was intersecting with the main road, down the mountain. Pivoting down, we passed a few houses, reached the main road and then relaxed on the grass while waiting for our ride back home.
The whole day and this hike turned out to be absolutely what I did not expect. And yet, this was just the perfect thing to happen that made this hike even more precious and unforgettable for Bailey and me.
Hvala Montenegro!
---
About author
Lisa Lützen is an Access Bars Facilitator, nature lover and adventurer. She spent a month at FitCamp Montenegro as our coliving guest, and we enjoyed the time with her, her partner and their lovely dog Bailey. We were amazed at how well they got the idea of our coliving concept and are more than happy to have made new friends. We are enthusiastic to welcome them again! To learn more about Lisa, click here.
https://fitcamp-montenegro.com/wp-content/uploads/2023/05/hiking-at-fitcamp-montenegro-4.jpg
560
1600
montenegrofitcamp
https://fitcamp-montenegro.com/wp-content/uploads/2020/06/fitcamp-logo-300x102.png
montenegrofitcamp
2023-05-12 08:41:59
2023-05-12 10:16:07
Hiking Adventure with My Dog to Nozdra and Golija in Central Montenegro